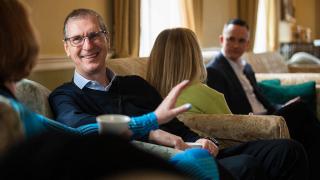 Programmes Overview
In a fast-paced, ever-changing global environment, outstanding leadership is vital to the success of individuals, organisations, sectors and society. At Windsor Leadership we take good leaders and make them outstanding.
Our programmes focus on self-development and self-awareness to better equip you to respond to the challenges of strategic leadership. They are designed for leaders who have the potential to shape the future of their own organisations, as well as society as a whole.
Duration and location
The programmes range from two to five days and are followed by a Part Two up to six months later, designed to review and reflect on the continued learnings from Part One. We offer residential programmes, held within Windsor Castle and Cumberland Lodge, Windsor Great Park, as well as Live-Online programmes, delivered 'live' via Zoom.
Selection and participation 
We are meticulous in our selection process to guarantee full cross-sector diversity and ensure your peers are at the same point in their leadership development. Learning is primarily focused around conversations with those cross-sector attendees, as well as the Programme Chair, Facilitators and Guest Speakers.
We offer space for you to reflect, debate, discuss, and transform your thinking and leadership behaviours on a personal and professional level. Only one participant attends from an organisation at any one time, and we guarantee a safe and confidential environment, ensuring open and honest dialogue. All programmes operate under Chatham House Rule.
Each programme has regular breakout groups where you can discuss your personal leadership challenges in syndicates. Plenary sessions will allow you to hear from senior leaders, review shared insights and discuss themed topics. Time is set aside for reflection, encouraging you to appraise your leadership journey and think strategically about your future.
What you can expect from each programme
A diverse cross-section of leaders with whom to discuss solutions to personal leadership challenges
A full and demanding programme designed to challenge you as a leader
Reflection time, specifically designed to enable you to reflect on your own leadership and challenges
A greater understanding of different operational and strategic cultures and how to think differently within your own organisation
Renewed confidence and energy in your current leadership role
Professional Coaches who facilitate the breakout groups, and an experienced Chair who will lead the programme
The chance to hear from, and question, a variety of Guest Speakers - senior leaders who give personal insights into their own leadership experiences
The chance to develop a unique network of leaders with whom to continue your leadership development
Access to our Alumni Network providing ongoing opportunities for continued networking and professional development
Our Programmes
We offer a range of programmes to suit senior leaders at different stages in their career. Residential programmes include: Emerging Strategic Leaders, Developing Leaders, Experienced Leaders and Women in Leadership. Live-Online programmes include: Emerging Strategic Leaders. In addition we offer Bespoke Leadership Programmes.
Bursary funding is available to support applicants from the not-for-profit sector and faith groups. Please call us on 01753 830202 to find out more.
How to attend
Each programme offers limited places and demand is high. To participate in one of our programmes you will need to nominate yourself for consideration, with support from your Line Manager, and where applicable, your HR department.
If you would like to have an informal discussion about any of our programmes please email Marion Joys or call 01753 839737. Alternatively you can apply online.