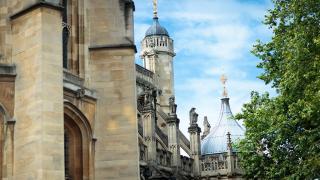 Terms and Conditions
1. All applications submitted for the selection process must be accompanied by this completed application form, CV, the nominator/referees form, signed terms and conditions and an invoice address.
2. You will be notified as to the success of your application and your place confirmed. An invoice will then be issued at which the cancellation terms below will apply. Payment covers both Part One and Part Two of the programme. We are unable to give refunds for non-attendance at the Part Two.
3. Payment is required within 30 days of the issue of the invoice and prior to attendance, unless terms have been agreed otherwise. Late payment will incur penalty charges.
4. Windsor Leadership holds all participants' application details in confidence and complies with the General Data Protection Regulation (GDPR) of May 2018.
5. Attendees should appreciate that the location of St George's House within Windsor Castle may, in exceptional circumstances, (e.g. Royal funerals) make it necessary for St George's House to cancel bookings at very short notice. In such cases St George's House will make its best endeavours to assist in relocating a programme and will return all money paid where appropriate. It is regretted however that St George's House or Windsor Leadership are unable to pay compensation.
6. Windsor Leadership may reference the names of past participants from our programmes but, in line with the Chatham House Rule*, will not attribute anything written or verbal to those individuals. * "Where a programme, or part thereof, is held under the Chatham House Rule, participants are free to use the information received, but neither the identity nor the affiliation of the speaker(s), nor that of any other participant, may be revealed; nor may it be mentioned where the information was received."
Cancellation Policy  
As a not-for-profit organisation it is crucial that Windsor Leadership cover any programme costs in the event of a participant cancellation. Therefore, the cancellation terms below are in line with our main venue, St George's House. If at any stage a participant should need to withdraw from a programme, Windsor Leadership will request a replacement from the organisation (who will need to be at a similar level in experience and approved by Windsor Leadership) otherwise the cancellation policy will apply.
More than nine months notice before the start date of the programme - 100% refund
Less than nine and more than six months notice before the start date of the programme  - 75% refund
Less than six and more than four months notice before the start date of the programme - 50% refund
Less than four and more than one month notice before the start date of the programme  - 25% refund
Less than one month prior before the start date of the programme  - Unable to offer a refund
Non-attendance at the Part Two within any given notice period - Unable to offer a refund