Mike McGrath | Voluntary Income Director, NSPCC | Triple Alumnus of Windsor Leadership
Introduction to experiential leadership development
I was introduced to Windsor Leadership about five or six years into my career.
My CEO at the time, who was a fantastic mentor, had just been on a Windsor Leadership programme. She nominated me for the Emerging Strategic Leaders Programme when I was in my late 20s. It was a real leverage point, opening my eyes even further to different industries, and different ways of thinking about learning and professional development. It was truly inspirational.
I enjoyed the format, the amazing and unusual benefit of being in Windsor Castle, and meeting people from so many different industries and walks of life. It also got me thinking about my values in the professional context and struck a chord with me in terms of always wanting to aim higher. Whilst I have never had an ultimate career destination in mind, I wanted to make sure that I was doing the best I could at each stage of my career. Feeling fulfilled and knowing that I'm making a difference sounds like a cliché, but is one of my drivers.
Career springboard and inspiration to make a bigger difference
Windsor Leadership's programmes have acted as a real springboard at several points in my career. The reason I've come back three times is because I wanted to meet more people, hoover up more insights and be inspired, stretched and challenged further.
One of the reasons I came to work for the NSPCC was that I was massively inspired by the cause.  Also, three years after my first Windsor programme I really wanted to test myself in a cause that I believed in, and that was a big brand. I wanted to experience what that was like and whether I could operate successfully within it and make an even bigger difference.
I've now been at the NSPCC for almost 11 years and have enjoyed success in a series of different roles along the way. I credit Windsor Leadership for playing a role in helping me achieve that.
Being comfortable and confident in your own skin
In a lot of ways my experience with Windsor Leadership has enabled me to be the most authentic version of myself that I can at work, and more broadly in life. I always remember my Grandad encouraging me when I was really young by saying, 'All you can be is yourself lad, and if people don't like that then you know that's not something you can change or worry about. Just be yourself and try to have confidence in that'.
That ethos has stayed with me and my experience at Windsor tapped further into this in a professional context. It helped me to be more confident and bring much more of myself to work and draw strength from that.  I've always been a bit of an open book, however as you become more senior in your career you often can't help but feel pressure to be a bit more guarded. My Windsor Leadership programmes enabled me to be more effective and more comfortable in my own skin at work whilst also being adaptable too.
Creating a calm amongst chaos
On one of my programmes, a military participant talked about the 'Condor moment' a concept sparked by an advert from the 1980s, and I've thought about that in so many different situations at work over the years.
He spoke about being in the theatre of war in Afghanistan and said whatever chaos you're in in your life, the most productive thing you can do as a leader is create a conscious atmosphere of calm to 'pause, think and reflect before acting'. 
He went on to talk about the power of taking a few breaths and saying, 'right let's talk about it'. Whether or not you're technically the most senior person in the room, people's eyes might gravitate to you. If you are displaying calm behaviour, half of the tension in the room disappears in the blink of an eye.
The story he told really resonated, and it clarified the significance of body language, behaviour and clear decision-making as a leader. Consequently, throughout my career I've used the concept numerous times. During the pandemic there were all sorts of situations that tested me to the limit, but taking that moment really made all the difference.
As a leader, particularly in times of change, you are conscious of being under the spotlight. There have been times in the past when people have praised my ability to remain calm amongst the chaos. It's been really humbling to know it has made a positive impact to colleagues around me and to helping us achieve our goals. I have so many powerful memories of my experiences at Windsor like that… insight and inspiration from an unexpected source combining powerfully when put into action.
Building confidence, being challenged and stretched
My third and most recent programme at Windsor gave me new confidence when taking on a new role. I remember it helping me truly understand the power of sharing why I'm doing what I'm doing, and why it's important. It enabled me to build on my existing strengths, stretched me and added new ideas. I credit the programmes with having honed my leadership and broader collaborative skills. I feel my potential has been unlocked by my experiences with Windsor and the ideas and insights that I've listened to and taken on board.
Exploring concepts with other leaders such as the importance of authenticity, integrity, leading from the centre and taking people with you, whilst by being clear about the vision, have all been so helpful. Equally, the importance of being adaptable, communicating clearly and making decisions in good faith are themes that resonate from my time at Windsor and have made a big difference. That's not to say that I haven't made plenty of mistakes along the way, and there have been things that haven't turned out as I would have liked them to! Like everyone, I know I'm constant work in progress!
Ultimately, I'm passionate about trying to make some sort of difference in my sphere of influence.
Giving back to wider society
On the theme of wanting to give back, Windsor has also helped give me the confidence to volunteer in ways I might not otherwise have considered this early in my career. For example, I served on the Trustee Board of the international charity called Lepra which was real privilege. So too has been the opportunity to join the Trustee Board at Prostate Cancer UK this year. This resonates in particular after experiencing familial loss to cancer. In addition, I have been a proud and longstanding financial donor of Windsor Leadership through the alumni giving scheme, and I am pleased to play a part in helping others to reap the benefits of such a great organisation and network of people – especially after being such a grateful beneficiary of Windsor's bursary scheme.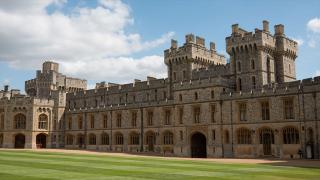 Windsor Leadership provides transformational leadership programmes for senior leaders across all sectors, including corporate, public, military, education, faith and not-for-profit.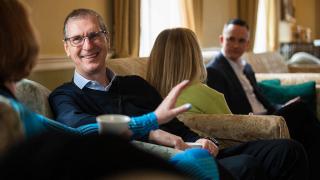 Our open and bespoke programmes create opportunities and the right peer-to-peer environment to explore and discover personal leadership styles.